LUTE MAKING SUMMER WORKSHOP
2001
A course in lute making took place in David Van Edwards' workshop in Norwich, England from Saturday 21st July to Sunday 29th July 2001.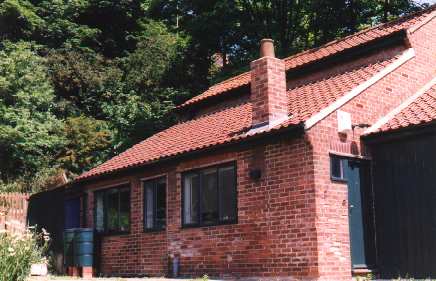 The Workshop
The central idea of this workshop course was to work together as a group to produce one 14 course theorbo for the English Lute Society to use as a hire instrument. This is a brief report on a tiring but successful mission.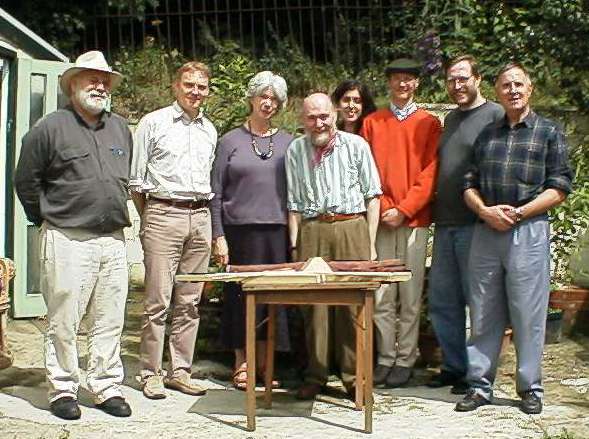 This is the group gathered round the complete set of wood necessary to make the theorbo! We hope it will look quite different at the end, but no-one can be quite sure!
From left to right: Carl Bernhard from California, Philippe Mottet-Rio from Switzerland, Thea from Norwich, England. David, Elena Ramirez from California, Peter Weiler from California, Gernot Hilger from Germany, Ivan Bradley from Ware, England.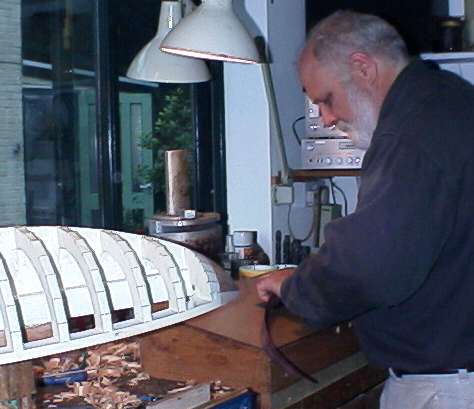 Day one: Carl planing the edges of the first rib.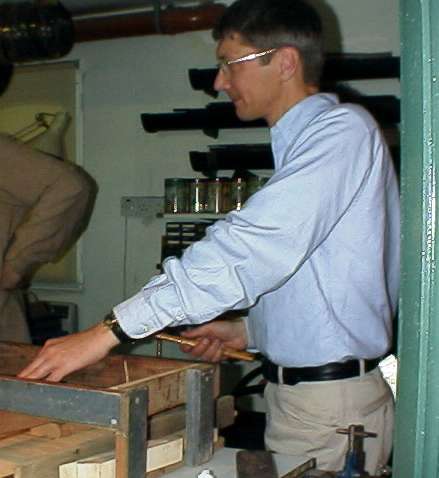 Day one: Peter wedging the glued-up front into its jointing frame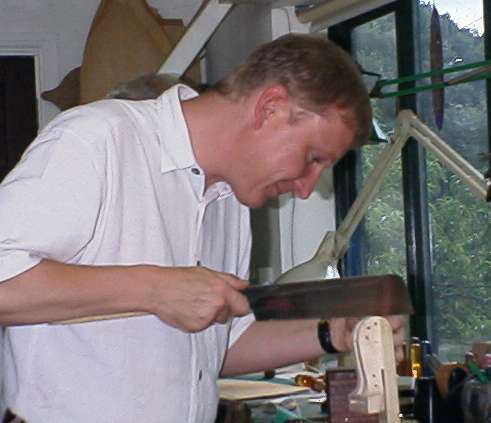 Day two: Philippe cutting the central slot in the upper pegbox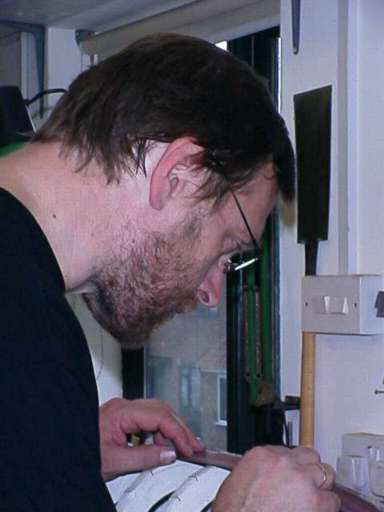 Day two: Gernot fitting the third rib onto the mould.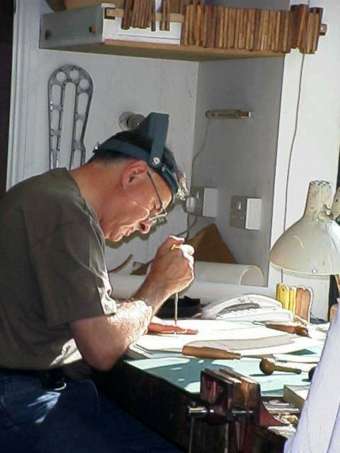 Ivan cutting the rose into the thin soundboard. We were blessed with almost continuous sunshine throughout the week!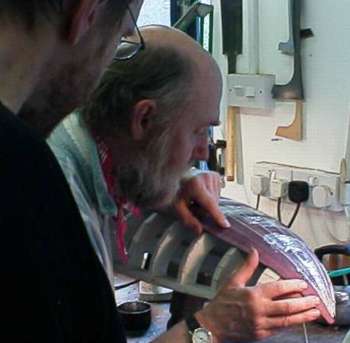 David demonstrates the art of rib-fitting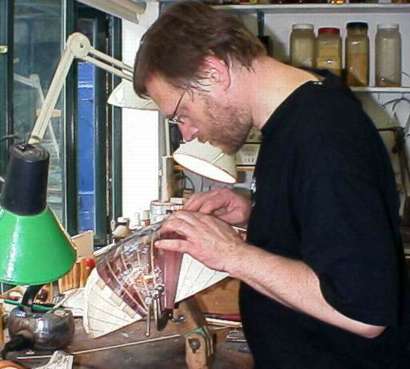 Gernot applies the principles!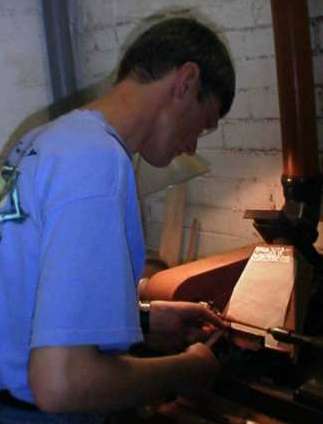 Peter turns pegs far into the night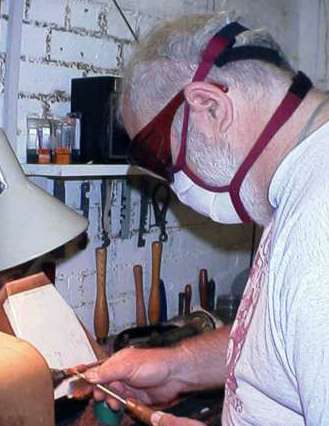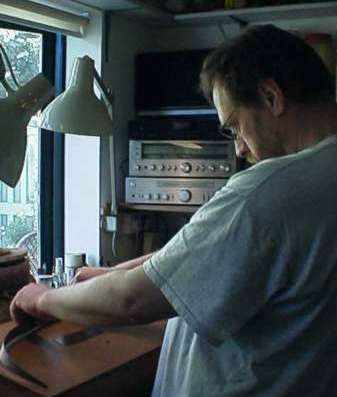 Gernot assesses the planing angle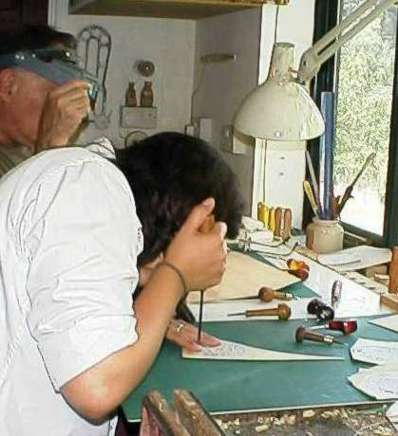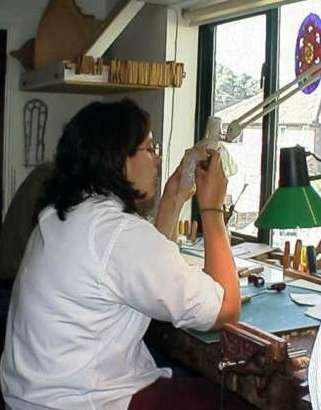 Elena examining her test run at rose carving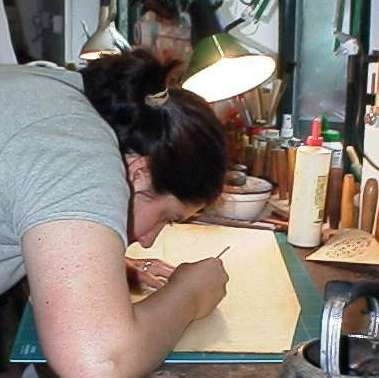 Followed by the real thing!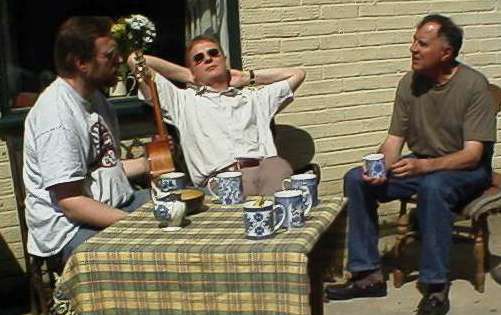 All work and no play would have made..........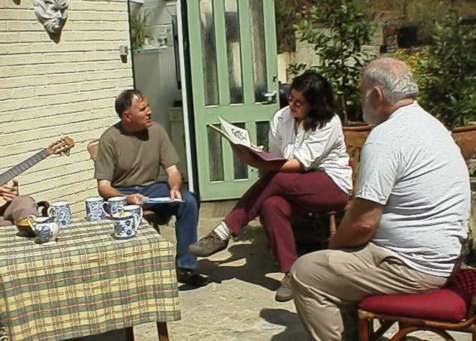 ....... dull lute makers!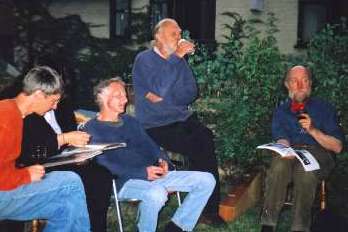 We also had a very nice barbecue evening with visits from other professional makers, Peter Forrester and Martin Bowers.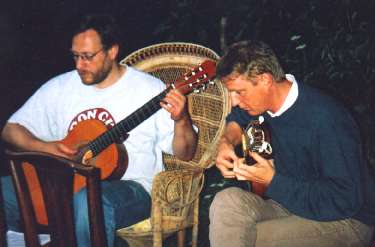 At which Gernot and Philippe played duets by Fernando Sor. So never let it be said that lutemakers are anti-guitar!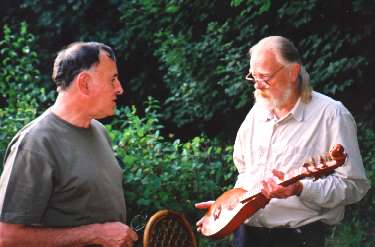 Nor are we prejudiced against wire strings. Peter shows Ivan one of his citterns.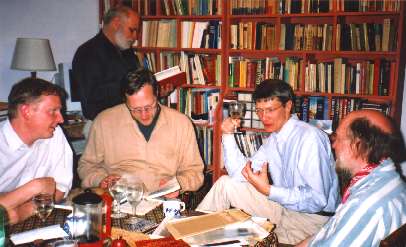 It was not only making, there were many discussions on all aspects of the lute world.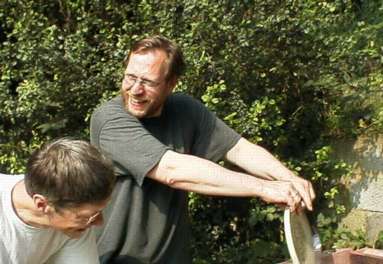 Gernot re-lives his former life as Vulcan. He is showing us how to use a charcoal fire to harden steel for a pegshaper.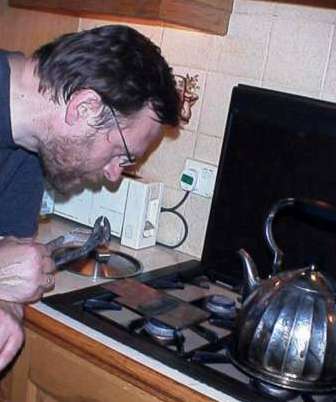 Followed by a lesson in tempering. A good job Thea was away for the afternoon.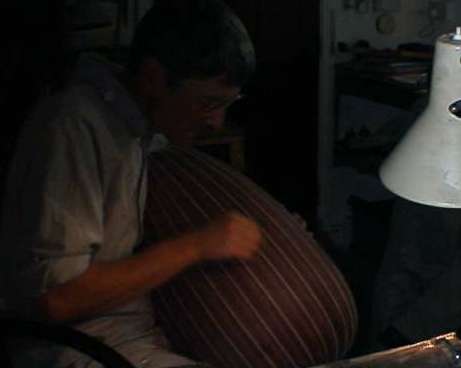 Peter works late scraping the completed back.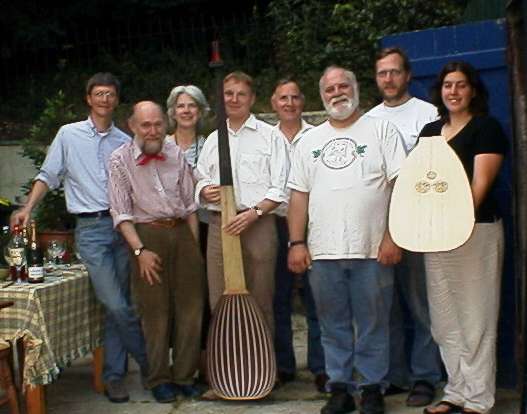 The final curtain call! We didn't quite finish the theorbo but all the component parts are complete.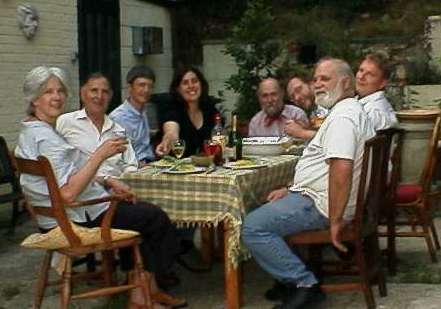 This is the celebratory meal in the courtyard, courtesy of the fine weather we had throughout the week. The final triumph of Thea's catering!
The theorbo is now finished!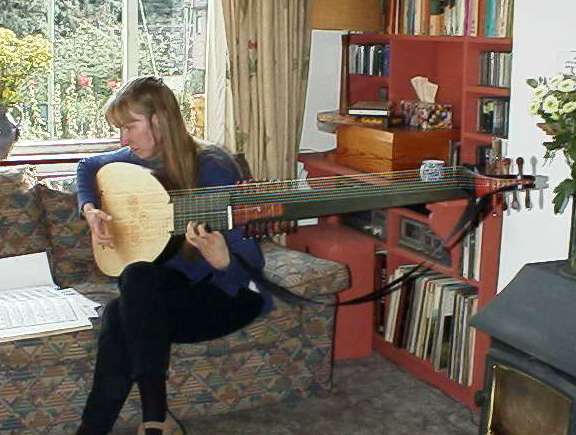 Finally finished. Lynda Sayce played it before it was handed over to the Lute Society, and pronounced it a fine instrument. Let's hope it has a long life introducing people to the joys of continuo playing. In fact it has now been officially handed over to the Lute Society at the meeting on 22nd Sept. It had a small introductory recital played by Kaz Michalak, and there was someone already waiting to take it away on its first day!
The whole enterprise seems to have been a great success, so much so that we are currently making plans to do it again next summer, this time maybe making a bass lute.

If you are interested in being part of next year's exhausting extravaganza, please send me an and I'll put you on the mailing list for further details.




Copyright 2001 by David Van Edwards