77.5cm & 82cm, 13 courses; after Thomas Edlinger c.1715 (Leipzig No.497) 11 ribs; the original is in ebony with ivory strips between, ebony veneered neck with three wavy ivory stripes up the centre, pierced ivory back to the pegbox, there is a treble rider for the chanterelle and an ebony bass rider carries the two lower courses.

This is one of a matched pair of ebony Edlinger 13 course baroque lutes which I measured in Leipzig in 1994. The other one (Leipzig No. 3319), as Tim Crawford was the first to realise, has the emblem of Prince Philipp Hyacinth von Lobkowitz in the scroll work decoration on the back of the pegbox.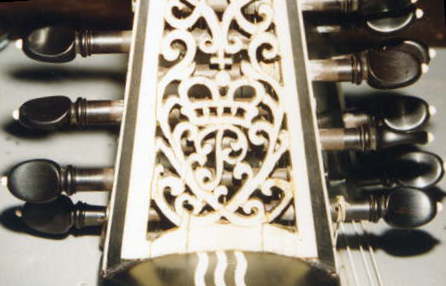 But that one has been rather cruelly cut down and has a new modern soundboard so I chose this larger one to copy which was almost certainly made for his second wife Anna Maria Wilhelmine. She was by all accounts an exceptional lutenist and, as Prince Lobkowitz had a long and close friendship with Sylvius Leopold Weiss, we may indeed feel safe to say that this instrument is perfect for that Weiss music which needs a bass rider lute rather than the longer so called swan-neck German baroque lute.

For modern tastes this is rather a long string length but its impeccable pedigree shows clearly that these larger lutes were entirely right for the period. Even the most difficult chord shapes in Bach seem in practice to be entirely feasible, so probably we have been rather too scared of these authentically large sizes in the recent past. The same applies equally to the large swan-neck lute by J H Goldt ( 36 )
Top course f' at A=415Hz.

Price: £4500
(click on the price to convert it to your own currency)

To return to the main catalogue click here

Below is an earlier 13 course version more closely modelled on the original.