Lute of the Month
August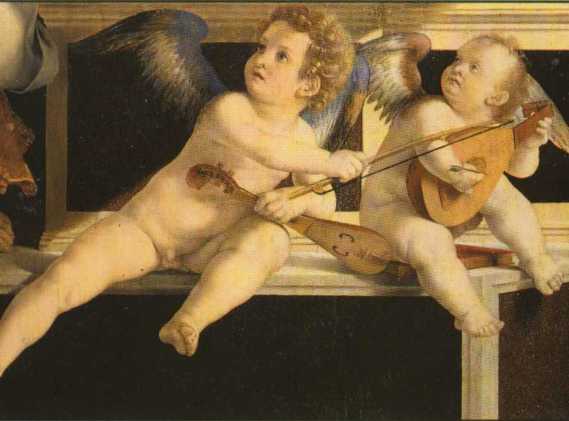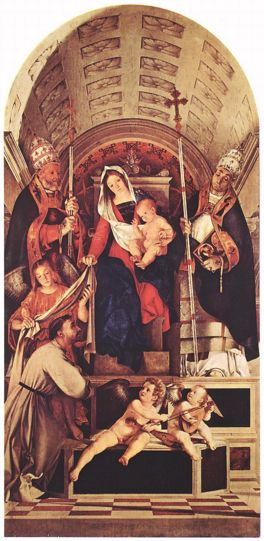 Lorenzo Lotto (c.1480 - 1556)
Madonna and Child with Sts Dominic, Gregory and Urban 1508
Oil on wood, 89.37 x 42.52 inches / 227 x 108 cm
Pinacoteca Comunale, Rimini, Italy
I am grateful to Francesco Contó who has very kindly told me where the painting hangs, its date (indeed it is early as I had surmised on style and lute detail) as well as a bigger picture of the whole painting which is particularly fine.
This is an interesting painting of a pair of putti with lute and rebec. I'm afraid I have not been able to find out where the original painting hangs now.

Lorenzo Lotto was probably born in Venice and his early works are said to be strongly influenced by Giovanni Bellini and on that basis alone I would be inclined to say this is an early work.

Lotto worked at various times in Treviso, Bergamo, Venice, Ancona and in 1509 was in Rome working in the Vatican. His account book from 1538 onward survives and apparently shows a troubled and difficult character and little worldly success.

There are works by him in museums all over the world but where this painting is I don't know, but probably Italy. If anyone could shed further light, I'd be very grateful.

The lute looks to be a nice example of an early 16th century instrument with the standard early bridge with its ends curled into a flower or small scroll form. The body seems to be about 11 ribs of possibly sycamore with a golden varnish. It may be yew but is certainly not a sapwood/heartwood yew back. From the pegs it appears to be a six course lute and the ?beechwood/ fumed boxwood? fingerboard ends in a straight joint with the soundboard in the normal early renaissance manner. However it looks to have a small step down onto the soundboard which would be unusual. Though maybe this is an inset piece of ebony or other dark wood. But again unusual.

The lute is being held in a very modern-looking seated position resting on knee and thigh with the left leg raised almost as if a footstool would be normal. although this would be entirely anachronistic for this period and may reflect more our own habits being read back into historic illustrations. This kind of posture is very similar to that in the simlarly dated putto of Dürer which I showed earlier.

The nicest touch though is the plectrum made of a feather with most of the flight part stripped off and held between forefinger and thumb just like a quill pen. There may indeed be just a hint of Cupid here since it so strongly reminds one of an arrow and relates to the bow (albeit musical) being held by the other putto. Or am I being unduly fanciful? At all events this puts it into the transitional period when plectrum technique was giving way to finger technique, and it is one of the clearest pictures of a feather plectrum that I know.
I am also grateful to Daniel Heiman, who has kindly sent these links for the study of paintings by Lorenzo Lotto. It was he too who alerted me to the fact that I had originally mis-spelt Lotto as Lotti !! This has now been corrected!

Daniel writes:
"Bergamo presents some interesting possibilities -- there are apparently at least three of Lotto's paintings there that are sometimes called "Madonna in trono," in three different churches.
http://www.apt.bergamo.it/lottoi1.htm

Here is a link to a reproduction of one of the paintings, which does have a lute-playing angel, though not the right one.
http://www.giuntimultimedia.com/edicola/artdos/091/i06m-091.html

Another one seems not to have any lute(s):
http://www.giuntimultimedia.com/edicola/artdos/091/i05m-091.html
I have not been able to find a link to the third.

Here is one more link to a detail of the lute-playing angel in the Church of the Holy Spirit in Bergamo:
http://www.qb612.it/lotto/sspangel.html

There is a small town somewhere near there with another "Madonna in trono" which is described in some detail (but not enough) at:
http://www.comune.sedrina.bg.it/arte2.HTM"

So we are still in search of the source of these two angels. Any pointers gratefully received.

It is interesting that the other painting with lutes by Lotto which Daniel has found at in the Church of Santo Spirito Bergamo: http://www.qb612.it/lotto/sspangel.html is dated 1521 and is very much more baroque in its composition, much further away from Bellini. And perhaps it is significant that this lute-playing angel is using his/her fingers rather than a plectrum. This is maybe a further indication that this is the sort of date [pre 1520's] when the transition from plectrum to fingers was being made.
If anyone has any comments about these pictures which differ from or expand on mine, please do either email me direct or submit them to the lutenet at
antispam/lute@cs.dartmouth.edu
and I will add them to this page.
Do please adjust this address by hand to remove antispam/
Copyright 2000 by David Van Edwards