Lute of the Month
November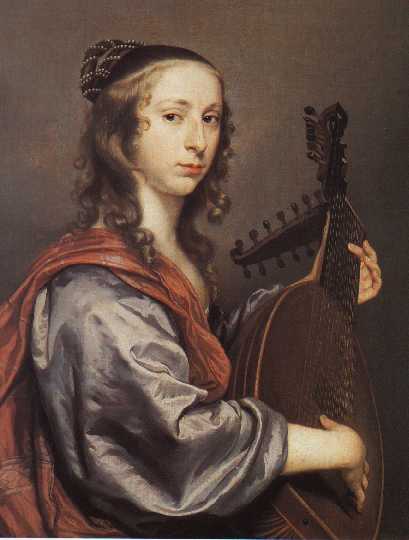 Jan Mytens (c.1614 - 1670)
1648
National Gallery of Ireland Inv. no. 150
Oil on canvas, 79 x 63cm
Signed and dated top right, Mytens pincxit 1648
A Lady Playing a Lute
This portrait was thought in the past to be of the Countess of Derby, but there is no evidence that this is in fact the case, and it bears no resemblance to the van Dyck portrait of the Countess.
The gallery catalogue believes that this was probably one of a pair of pendant portraits commissioned to celebrate an engagement or marriage. In these portraits the lute was often used to symbolise harmony and Mytens was a popular painter of such pairs in the Hague because of his ability to capture a likeness. Alas for us the lute is not quite so convincingly portrayed.. The number of pegs does not match the number of strings and the various spacer thicknesses are a bit suspicious. The boxwood edging to the soundboard is unusual and would only make visual sense if an old dark soundboard had been used. Certainly the present soundboard looks like that and there was a fashion in France for using old soundboards. More commonly the presence of a really old soundboard is denoted by the use of a "lace" on the edge to cover the signs of wear and repairs. The fingerboard ends in a straight line unlike the majority of lutes of this period which usually had "points" as a kind of decoration.
The back of the lute appears to be made of either rosewood or a very old dark yew wood. The curved pegboxes are characteristic for this type of lute.
Something about the hand positions make me think this was not the portrait of a player! However it is a nice picture and the fineness of the curved lower pegbox should inform our eyes. Too many modern versions of these instruments have thick clumsy pegboxes in spite of many paintings such as this.
This painting is referred to in Kenneth Sparr's recent article on a surviving 12 course lute which has appeared in the latest issue of The Lute, Vol.XXXVIII, 1998.
If anyone has any comments about these pictures which differ from or expand on mine, please do either email me direct or submit them to the lutenet at
antispam/lute@cs.dartmouth.edu
and I will add them to this page.
Do please adjust this address by hand to remove antispam/
Copyright 1999 by David Van Edwards