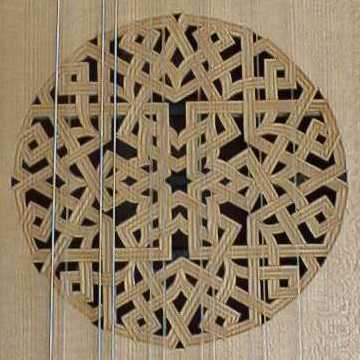 Rose based on Georg Gerle c.1580
This second rose design is based on one in an ivory lute by Gerle in Vienna Kunsthistorisches Museum. This was one of the commonest rose designs of the renaissance period. Although this design seems to speak of the historical links with the lute's origins as an Arabian instrument, the iconographical evidence does not support this as a stylistically continuous descent. More it seems to represent a renaissance interest in Middle-Eastern design.
---
I have a huge variety of original rose designs and I will send a selection for you to choose from when you place your order.
Rose based on Harz
The triple rose below is based on the Harz archlute in Edinburgh.